With so many Social Media Platforms available to us, there no reason to not take advantage of it. Below we give you some tips on how can use each one to gain as many website visitors as you can for free by utilizing social media.
Firstly Keep in mind, especially when cross-posting:
For IG Reels, the video must be no longer than 90 seconds long, and for FB Reels, no longer than 60 seconds long.
Now let's talk about what's new…
New Reel feature:
If you are not already seeing this on your page, you will be able to put a category on a reel. This is great if you are someone who posts content about a lot of different topics. In this case, you confuse IG on where you belong and where to show your content. You will be able to organize your content in some way by category and show IG exactly what audience should be seeing these specific reels by proving them with a category that will work something like a #.
Users:
-200 million businesses use IG right now!
-1,3 billion people use IG right now!
That's enough of a reason we all need to be using IG to it's full potential.
If you are scared of reels, you can still grow with static and carousel posts. These get more comments but the people seeing them are your people already but with Reels, there are also people who know nothing about you seeing them. So it makes sense if you have more engagement on your feed posts than reels. Don't be discouraged! Stay focused and be intentional with the content and the message but don't worry if a lot of people don't interact. People are just more used to commenting on posts rather than reels.
Reels have reach far beyond static and carousel posts and you can grow your audience must faster!
Besides this…
There will be a new re-share feature where you can share your own and someone else's content directly to your feed in addition to your stories. You can pretty much caption to say share and now all your people who follow you can easily share it if they want and you can do this as well with anything you find relevant to your business.
And…
QR Codes can have text on them so people know exactly what it is! You can share these even with a printout for a live event so it's nice and easy for people to find you, and the text lets them know right away what the QR Code is for.
-On desktop, you can just add QR to the end of the URL on the top to get yoir code.
Let's not forget!
People will be able to pay directly in the messaging app without having to go off of IG.
Now…
You Tube!
Videos are hot. We all watch them, some of us make them, and most importantly we need them to make money.
Where is the best place to make money with videos?
Umm…YouTube, obviously. Luckily they keep coming out with new ways for all of us business owners to increase our video performance and in turn increase our sales; we all know the power of digital marketing.
What's some new stuff YouTube has or is rolling out?
#1) In YouTube Advanced Analytics, now businesses can see if their viewers are new or old to know what is working to attract new people to the YouTube channel.
#2) They are starting to show analytics for shorts and remixes to let you know how many people remixed your videos and where so you know if the remix is doing really well you can replicate it for yourself.
*Remember you can turn off the remix feature so others can not use your videos for remixes.
#3) Longs and Shorts will now start being correlated unlike before when if people were watching your shorts they wouldn't necessarily be seeing your longs in their feed, but now they will start to see them as well.
#4) Now you can make a short from a long video directly on the YouTube App. instead of making it separately, and the link to the long will automatically be shared along with the short allowing people previewing the video to be able to see it was just a short and hopefully go watch the long, leading to longer views and more subscribers.
#5) Comment stickers are coming for shorts! So you will be able to use stickers on your videos to ask for comments or feature comments on your shorts to have people interact more.
#6) New video editing tools are coming to make it easier to trim videos as well as for formatting the description using bold headers, metallic text, and such.
#7) The Merchandise Tab on YouTube will now be called Shopping and we are hoping that courses, services, and digital products will be able to be sold besides actual merchandise!
#8) Tagging products is being tested and this feature will allow you to tag other people's products in videos which is great for affiliate marketing and sales.
*No restrictions are being seen as of right now.
#9) In YouTube Places, you can now tag a place that is a business, which is great for retailers with a location who has their info on Google Maps which is taken from Google Business.
Having good videos and utilizing everything that is given to us by YouTube is a must in the world today with so many online businesses.
Share YouTube Snippets on other Social Media Platforms!
The first question you may be asking is:
What is a YouTube Snippet?
A YouTube Snippet is a cut of a YouTube video that can be used in various ways to engage viewers to start watching or to pinpoint a specific part of a video.
Sometimes it's hard to share a long video or to get an audience to watch one. A good way to get them to start viewing is to interest them by giving them a small taste causing them to want more.
When can you make a YouTube Snippet?
If you make a YouTube video that is at least 2 minutes long you can cut a piece of that video and make a snippet up to 60 seconds long. (you will see the scissors under the video if you are eligible)
What do you do with a YouTube Snippet?
You can share a YouTube Snippet on your social media profile or page, on your Website, or through email. The Snippet has the original video link and can automatically bring viewers back to your full YouTube Video.
Where do you share YouTube Snippets?
1) Facebook
-To share your YouTube Snippet on FB you can just copy and paste the link on your profile, page, or group or share it directly from the YouTube share option.
2) Twitter
– To share your YouTube Snippet on Twitter you can also just copy and paste the link or share directly from YouTube
3) Linked In
– To share your YouTube Snippet on Linked In you can share it directly to your profile from YouTube but not onto a business page, but you can copy and paste the link to either manually.
4) Instagram
-To share your YouTube Snippet on Instagram the easiest way is to snapshot the video and add the link to the video clip.
5) Email Marketing
-Sharing clips through an email marketing campaign can be as effective for getting views as for sales.
6) Your Website
-Embedding them onto your website using the embed code from YouTube leading your website visitors to your YouTube Channel.
Extra Tips:
-You can use a snippet to help answer a specific question in your YouTube Channel comments.
-If you are a non-private you tuber with videos 2 minutes or longer anyone can snip your videos unless you opt-out.
-You can block individual YouTube users and certain words from being used in a YouTube Snippet generated from your videos.
-Always add a good video description along with the title and tags. Optimizing video descriptions for YouTube can make you rank higher in the search.
If you need help creating promotional video let us know.
Here are some tips on how you can get the most out of your Tik Tok experience and use the Tik Tok features to expand your brand or small business.
1) Use the Creative Center on Tik Tok to jump on Trends.
Make it part of your morning routine to check the trends on the Tik Tok Creative Center and decide if you want to jump on or not. It's completely Free and easy!
You can see:
-Trending Hashtags
-Trending Music
–Videos that you can sort by likes and shares
*And it can be sorted by industry
It's great that you can see can sort the trends by industry so you can see how well certain things are working for people in the same type of business as you.
Not that you have to join the trend, but if you want to, it's best to do it right away before it peaks and the market is saturated.
Try it, you may be amazed at the results.
2) Use the free Tik Tok Small Business Resource Center 
The Tik Tok Small Business Resource Center is a place filled with resources for any small business owners trying to get ahead using Tik Tok. If you are not already using this you should probably start and take advantage of the available help.
You can find:
-Tik Tok success stories from brands and Small Businesses who have had real success using the platform.
-Detailed case studies on how they have reached their success so you can see and follow what they did if you want.
-Tons of Blog articles to help you with your Tik Tok Journey
-Creative tools for ads like Video Templates and Smart Video Soundtracks
3) Optimize your Display Name
If you want to sell in a specific area state the location in the actual display name. Use this along with location hashtags so anyone searching for something in that area will find you.
Ex: "Las Vegas Electronics" #LasVegas #LosVegasElectronics
Now anyone searching for electronics in Las Vegas is more likely to find you.
4) Keep Tik Tok Happy 
Saying "check the link in my bio" could make Tik Tok not happy causing them to show your video less… they want to keep people on the platform.
*About the disappearing link in the Bio on Tik Tok right now; they are running a test to see if by removing the links it will cause users to stay on the platform longer. Not all people are affected by this test but if your link has disappeared it probably means you can not see the links of others either. People who are not affected and part of the test can still see your links even if you can not see them yourself. (This should be done and back to normal in a week, hopefully!)
5) Tik Tok Tip
For users with over 10,000 followers, here is a little hack. If you're not sure if your video has passed the Tik Tok review, try to copy the link, on the top of the screen it will tell you if it's public or still being processed. (Only users with over 10k followers get their videos reviewed)
6) Make videos that everyone can understand.
No talking? Yesss. It may seem weird but also seems to work. Some of the most popular Tik Tok users make videos with no words so that any audience can watch them and understand them. This way your content can be understandable for anyone, even people who can't hear.
7) Edit Captions
You can edit the captions that are automatically put on your videos if they are not correct! Just click edit caption.
*Translated captions for Tik Tok videos should be coming soon for certain languages, they are working on it. This will automatically translate the captions on the videos for the viewer's location giving a larger audience the chance to understand your content.
How to Use LinkedIn to Increase Sales for Your Online Business
Typically, LinkedIn is referred to as a "professional social network." However, LinkedIn is more of a professional networking platform for facilitating business contacts, customers, resume sharing, and job listings. Despite LinkedIn's popularity, many people are still unaware of its uses or how it might benefit them.
LinkedIn, a business-focused social media platform with over 500 million users, is an effective tool to increase sales for your online business. It is a forum where business people can establish trust that may lead to future business prospects.
LinkedIn is used by around 25% of adults who are active online. Compared to other social networks, LinkedIn has more users over 30, who are more likely to be in senior positions and decision-making positions.
Any company that sells a product or service to this market segment should use the power of the LinkedIn platform to help increase sales of its online business. It is therefore understandable why LinkedIn is the preferred business-oriented networking platform.
Moving further, the question of how to use LinkedIn to promote sales for your online business arises.
How can I Use LinkedIn to Increase Sales for my Online Business?
Step #1) Optimize your Personal Profile.
*This can help to increase sales for an Online Business
Step #2) Create a Captivating Headline.
*Describe in short how you can help your potential client
Step #3) Use a Professional Profile Picture.
* Try to make a solid first impression since it will serve as your business card. Use a picture with a high resolution displaying an attitude that suits your brand.
Step #4) Use Your "About" Section to Its Full Potential.
* The "About" area is a terrific place to highlight what sets you apart from others who are also using this platform to promote their online company sales; explain how you are unique by displaying your primary abilities and your desire to add value.
Step #5) List Your Titles and Awards.
* Use LinkedIn's "Accomplishments" section, to showcase titles and awards you've received and other credentials you've attained. Surely, the clients will not hesitate to approach you if they are aware of your achievements.
Step #6) Include Your Contact Details.
* A complete list of email addresses, phone numbers, and corporate websites should be included in the contact information.
Step #7) Create Your Company Page On LinkedIn!
Your company page works as the "home page" of the interface of your website. A well-optimized LinkedIn Company Page helps promote your products to customers, thereby increasing brand awareness and sales for your online business as well.
What are important things to add to a Linkedin Business Page?
#1) Company Logo
#2) Company Description
#3) Company size
#4) Industry
#5) Business Type
#6) Website URL
#7) Location
To promote your online business sales on LinkedIn, you must ensure that you have covered all the bases. In today's digitally driven world, the optimal use of LinkedIn will help you attract new clients, increase business sales, and boost brand awareness.
Now let's talk about how to use LinkedIn to Increase Sales of Your Online Business…
#1) Private Messaging
Without a doubt, a private messaging service is a great way to jump in and offer your product or service. To begin with, approach and contact like-minded individuals in your sector. Listen carefully to them and ask them questions to establish trust and a good relationship.
Show your experience and previous successes in the field while communicating with clients. Consider their level of interest in a possible relationship. If you do not receive an answer, please be patient. It could take some time for a response. Also, don't ignore them and make yourself available when they approach you.
#2) Make Your Content More Digestible
To promote your online business, try to create content that people can easily digest, compelling them to read it. Short, concise, clear, and amusing content will undoubtedly entice readers to succeed at online business promotion.
-Keep The Content Short and Simple.
-Do not lengthen the paragraph for more than 3-5 sentences by using direct and concise language, enticing clients to take an interest in your online business.
#3) Use captivating Headlines.
By including engaging headlines in the content, you can influence the readers' intentions.
#4) Video Clips.
Professional Online videos are overtaking content marketing and are assisting in promoting sales of your online business.
#5) Sharing Content Consistently
Consistently sharing information with your audience keeps them engaged and coming back for more.
#6) Utilize Groups to Promote Sales of Your Online Business.
LinkedIn is a great platform to promote the sales of your business, but most of its users are not leveraging it properly. One of LinkedIn's best features for promoting business sales is LinkedIn Groups. It is essentially an online community where you can connect with similar companies and other experts.
How can you utilize Linkedin groups for more sales?
Find or make Groups:
The LinkedIn platform provides suggestions not just in "Groups," but also in various other categories such as companies, skills, etc. You can use your keyword to restrict your search and find a group that best meets your requirements and provides assistance with ease to promote your online business or make one yourself.
Step #1) Find Groups and Engage Group Members.
Get yourself involved with group members by fixing their problems, offering advice, and sharing your previous experience for their benefit to engage them in your business. It is an excellent method for keeping group members within reach.
Step #2) Encourage Discussion.
A question and answer session is also a good way to keep the members of the group active and intact. Start conversations about current events, especially those that are relevant to your niche.
Step #3) Avoid Spamming.
Avoid publishing spammy links in the group and instead attempt to share only relevant things.
Step #4) Create Your Own LinkedIn Groups to Increase The Sales Of Your Business.
You can also create groups on LinkedIn to promote your online business if you are unable to find the groups you're looking for. It will enable you to distinguish yourself as a leader in your field and offer you the opportunity to consider what other people may think of your ideas.
Bottom Line
With so many updates on the horizon for LinkedIn, you can watch how the network continues to establish itself as an essential resource and platform for increasing online sales for your business. Using the LinkedIn features listed above, you can potentially increase your business's sales by building a strong network of professional relationships. It is up to you to figure out how you will use these features to increase your business sales.
Try out one of these effective strategies for increasing your company's sales on LinkedIn.
Another cool way to utilize Social Media is…. drum roll…
Shoutouts on FaceBook or any Social Media Plaform!
Getting a social media shoutout can really boost your business. Shoutouts are a part of digital marketing widely used for business promotion along with other methods. Keep reading to learn how to get paid and free shoutouts.
Centuries ago, if you saw a new painting or a piece of jewelry at your neighbor's place, you could ask, 'Hey, where did you get that?' The neighbor would tell you about a good painter or a jewelry store.
The same thing happens even nowadays as we share our experiences with relatives, friends and colleagues, as we recommend certain goods and services.
A social media shoutout works pretty much the same way. Whenever a social network owner mentions another account, page or channel and provides a link, it's a shoutout. The idea here is that an owner of a social media account advertises your brand or social media account to his or her own followers.
Let's suppose I have a kitchenware store and I've found an Instagram account that posts food, recipes, etc. If its owner agrees to post my materials with a link to my web store (i.e. to give me a shoutout), this person's followers will see my wares and may want to buy something or at least visit my store.
Simple, right? In fact, you probably see at least one social media shoutout every week. We do it all the time by liking posts, reposting, etc. Except we don't do it in order to help someone make money.
Brands usually ask popular influencers to give shoutouts because these people have large and loyal audiences that follow their recommendations. From this perspective, shoutouts are integrated into influencer marketing. However, we will see that you can get profitable shoutouts from people with tiny audiences too.
Who can give you a social media shoutout?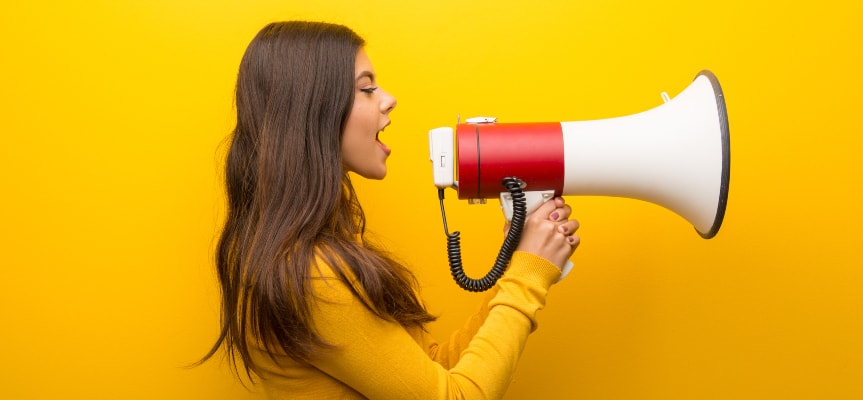 You can guess that it's no use asking any random account owner to promote your product. For example, if I sell kitchenware, a shoutout from an account owned by a heavy metal band will look like a joke. There are three main criteria you should keep in mind.
1. Similar niche
This is what I've described: if you want a shoutout to bring you visitors and clients, you need to find an influencer who works in the same or similar niche. However, be reasonable: you can't ask direct competitors for shoutouts. Instead, look for people who may truly, sincerely recommend your product to their followers.
2. Social network type
Even if you've found a good account with a similar niche, whether it could give you a good shoutout depends on what type of social network it is. For example, an Instagram account owner could mention your article, but people browsing Instagram usually don't want to read anything. So, this shoutout may not be as effective as you expected.
3. Different audience
Lastly, a similar niche doesn't necessarily mean a given account has the same kind of audience. Be it gender, age, marital status or anything else, it can make a huge difference.
How to get a social media shoutout?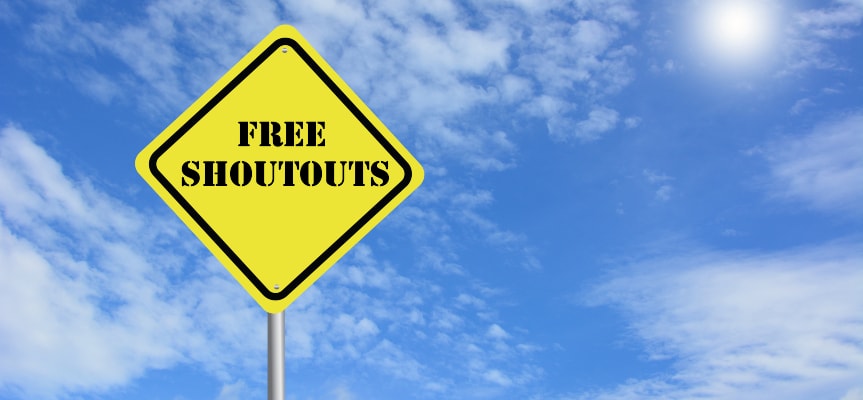 Let me make it clear right away – very few influencers will agree to give a shoutout for free because if you want something from them, you probably have no other choice but to pay. Still, some people get lucky.
Find influencers
First of all, you'll have to manually find an influencer. Use hashtags to browse social networks in search of accounts with a similar niche. Sounds simple, but depending on your niche, it can take a while before you discover a really interesting page.
Avoid influencers with a lot of followers because they get interesting offers from entrepreneurs (who agree to pay) quite often. So, an account with 100,000 subscribers is not good! Instead, look for accounts with a similar number of followers as you.
Before making contact and asking for a favor, I recommend spending some time liking and commenting on their content. Get noticed and show yourself as an active subscriber.
Contact account owners
Contact the account owners. As soon as you've found a number of interesting pages, subscribe to their communities and only after that send a message to them.
Don't ask for a shoutout right away. Don't ask them to visit your page. Lines like these irritate people because it becomes absolutely clear what you're after.
Instead, start with praising their content and be sincere. There's a chance the person on the other side might get interested in your content as well.
Offer S4S
After that, you can offer co-operation. Since you want a voluntary shoutout, your only option is the so-called S4S model, i.e. shoutout for a shoutout. Simply speaking, you and the other guy will promote each other.
If the other party agrees, it's a good idea to discuss the plan in detail – who's going to post what, how and when. Remember, you two are in the same boat, you're partners, so you both have to take it seriously.
How to get a paid social media shoutout?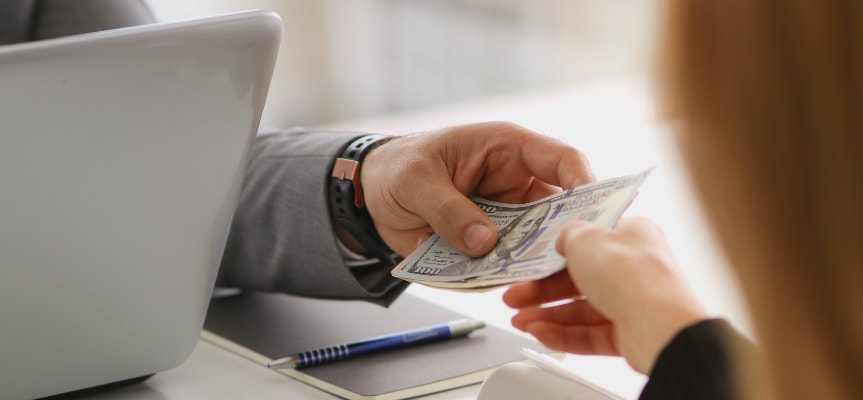 Selling shoutouts is a common practice in influencer marketing. Paid shoutouts on large accounts can help you reach a much wider audience, thus bringing you subscribers or sales.
Follow the same steps and ask the account owner if he or she makes paid shoutouts. Ask for prices as well.
If you don't want to manually search for influencers, you can use one of our paid services so you can increase your social proof. They can save you months increasing your followers in just a few days.
Tips on getting more shoutouts
One social media shoutout can hardly affect your total sales, so the more you get the better. Follow these tips to get more shoutouts.
1. Contact influencers personally
Never ever offer collaboration to influencers in comments or anywhere else where other users can see your conversation. Your potential partner will definitely not like it. So, keep your business conversations private.
Also, I recommend checking the influencer's profile to see how they prefer you to contact them. A person ignoring such requests clearly demonstrates that he hasn't seen the profile and doesn't really care about the influencer.
2. Make high-quality content
Not all influencers will agree to collaborate with you even if you're offering money. If your account looks unprofessional or the content you create doesn't appeal to the influencer, he/she may simply not want to have anything to do with you.
So, make your account look good and create truly interesting content related to the niche of your business. The other guy too wants to share an interesting and useful post or a couple of photos and videos related to their topic. And your task is to become the source of this content.
3. Give a shoutout first
Instead of asking for a shoutout, you can try giving one instead. If there's an account with really good content, share it with your followers. Do the other guy a favor, and maybe he will feel obliged to you.
Are shoutouts worth it?
It's really difficult to judge whether shoutouts can or cannot boost your business. A lot depends on your niche: certain things are popular while others have a narrow audience. As I mentioned before, an influencer's audience is also important. And you can't be sure this influencer won't do the job half-heartedly.
As a result, there's no guarantee it'll work. So, if you decide to ask for shoutouts, either try doing it for free or try a small budget to see whether the result is worth it.
Thanks for reading. Join this FB Group for more ways and tips to make money online.